I'm undecided. I don't know if my style is street photography or travel photography. But then, when looking back at my images and those of others, I wonder if there is actually a difference. It's a very blurred line. Are photos of people going about their business in their own environment street or travel photos? Or am I overthinking it?
What I think is important is to know why you're taking the photo. If there is one, know the story behind the image. I know the saying 'a photo says a thousand words', but what are those words?
One of my very favourite places for street photography is Hong Kong, in particular Sham Shui Po.There are 380,000 people in Sham Shui Po, the poorest people in Hong Kong. The majority of them are elderly people living on $5 HK ($1AU) per day. The rest of the population is made up of imigrants and poor Chinese. This small district (it's only 80 hectares in size) is in a sad state of decay.
Let me take you on a little tour through Sham Shui Po with photos from my last visit.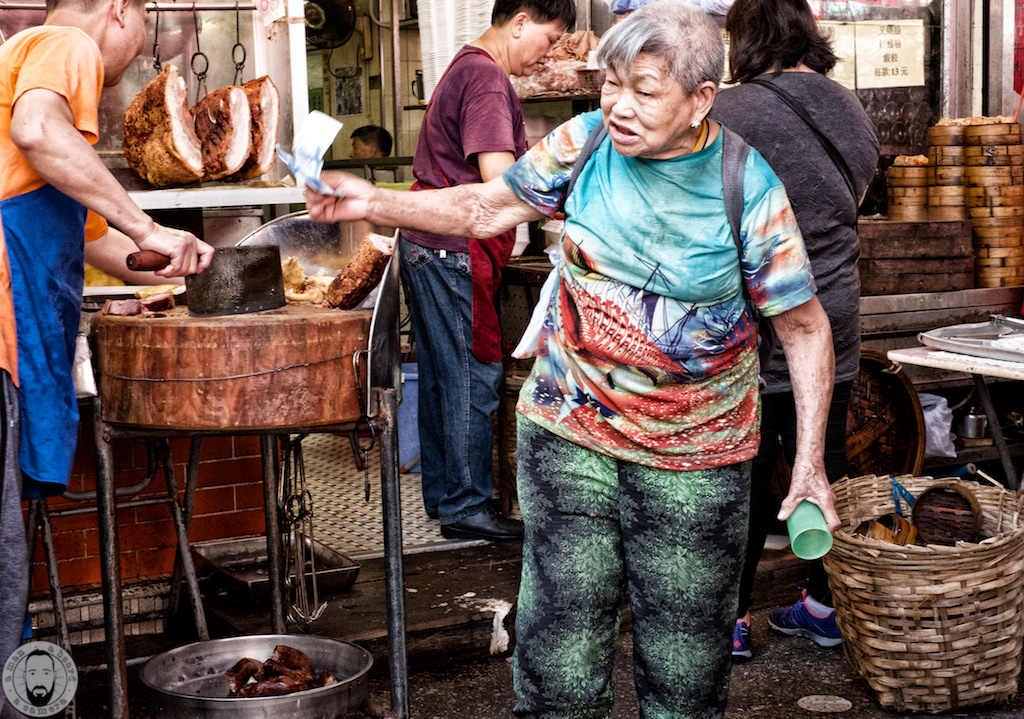 Conniption at the Kitchen.
This dear old lady was going off...and no-one cared.
It was 7am at one of the many street kitchens in Sham Shui Po. She stood in the middle of the footpath waving money in the air and pointing her green plastic cup at people. A few things were immediately obvious to me - she was local, due to the location and time of day; and the workers were familiar with her because they did not bother to try and calm her down or move her on.
One of the ladies from the kitchen brought her out a little white plastic bag of food (probably her regular order) and took the money from her hand. No pleasantries were exchanged. At that point the old lady moved on up the street, abusing all and sundry along the way.
Mental health problems are cruel and they do not discriminate. Before you judge a person on their immediate presence, take a second to look a little deeper. There may be more to the story.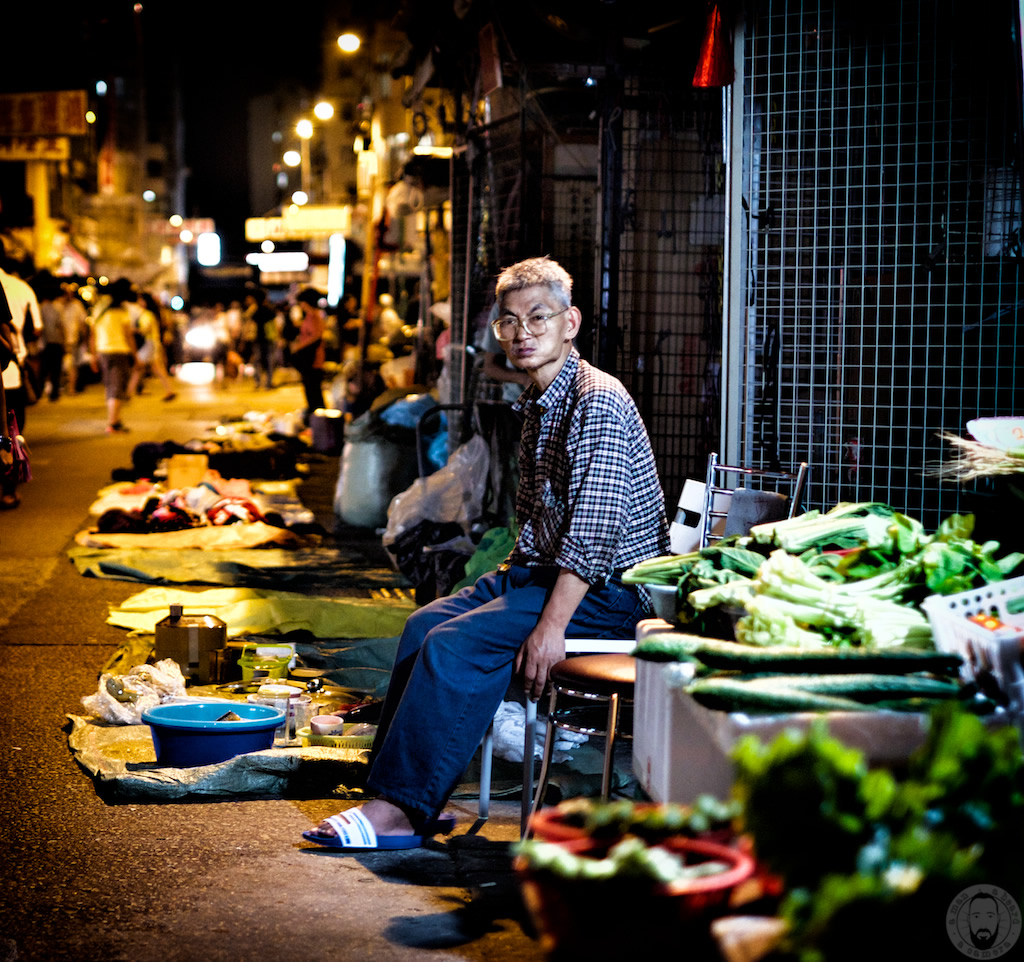 After the markets.
Once the 'official' markets finish for the night the cities poor come out to occupy the space in an attempt to sell anything they have in order to make a dollar.
Sham Shui Po is the poorest population in Hong Kong. This is a stark contrast to the affluence of the city across the bay. The elderly, unskilled workers and migrants make up most of the population and live on an income below the poverty line.
This old man spread out an old tarp and was displaying an array of old pots and pans, plates and other bric-a-brac, most likely his own cooking items and things he had 'collected' from the street.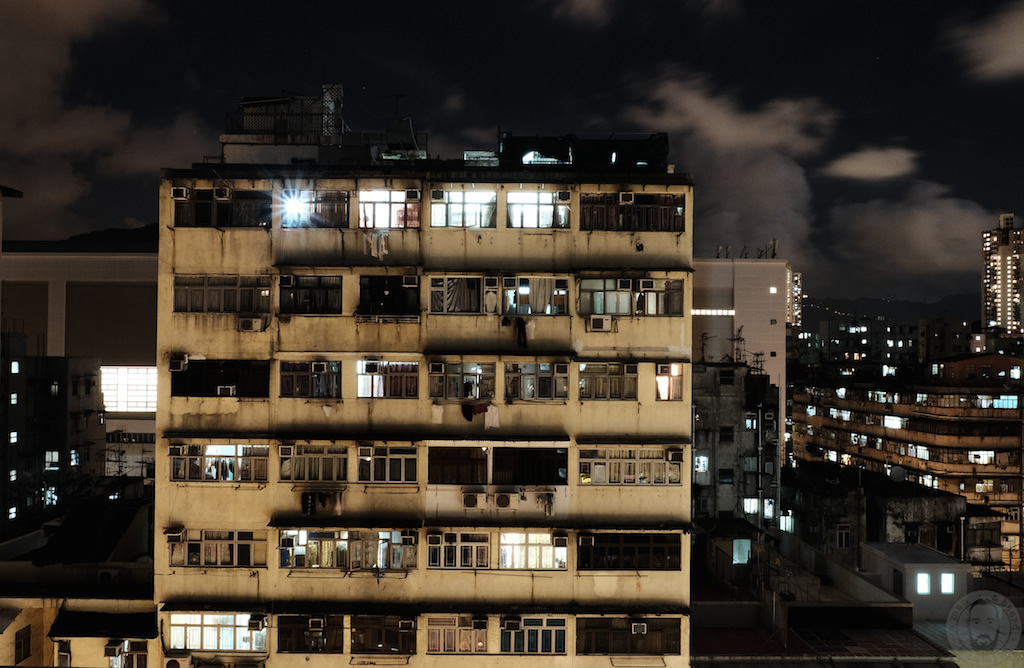 Love thy neighbour.
An average unit in Sham Shui Po costs around $3,300 HK ($570 AU) per month. This figure is in excess of a third of the average wage. As a consequence many residents will go without power. Temperatures inside these units has been known to reach 38 degrees celsius!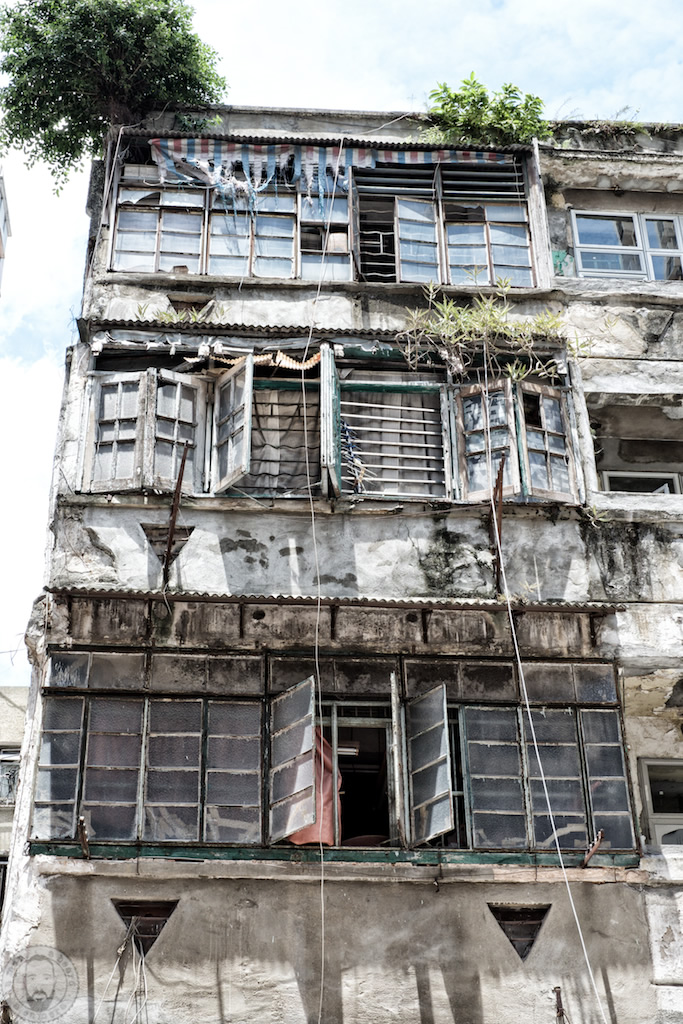 To make matters worse these are subdivided units. Because the rental demand is so high unscrupulous building owners divide an already small unit in half. The work is shoddy and unsafe. Walls are thin and have been known to fall down. Plumbing leaks or becomes overloaded and blocked. Because the number of people in a unit complex is doubled there is a fire hazard and as hallways are narrowed to make way for more rooms, escape routes are unable to cope with any disaster.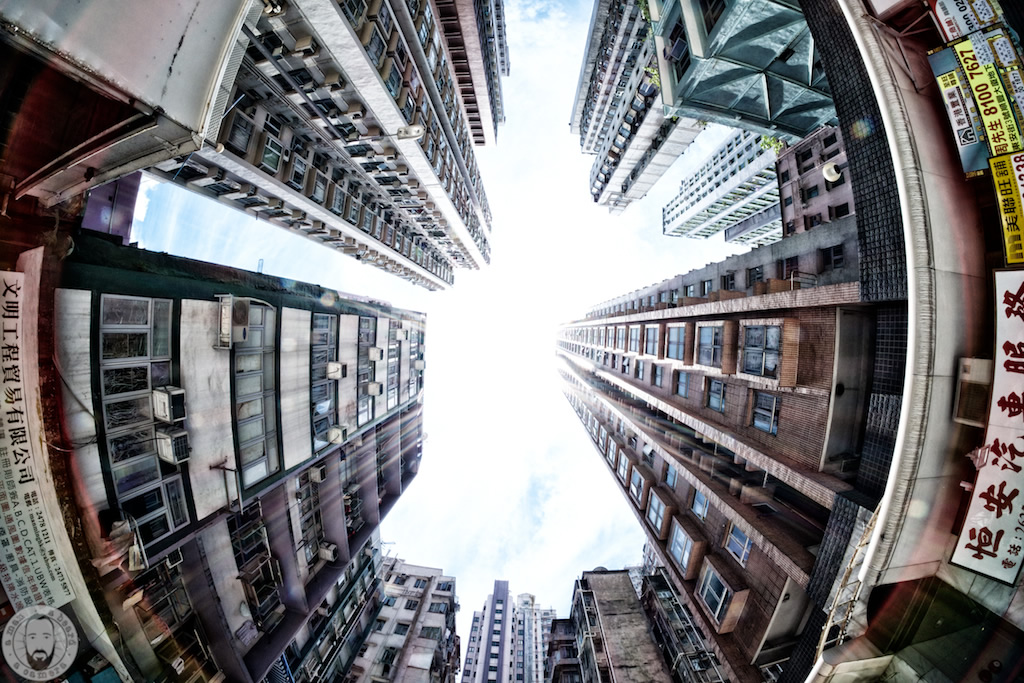 Deep in the 'burbs
Row after row of subdivided unit complexes dominate the skyline. Sham Shui Po is very densely populated. It preserves its traditional characteristics with an array of markets, small shops, and food stalls that have disappeared from other areas during the past several decades of economic developments and urban transformation.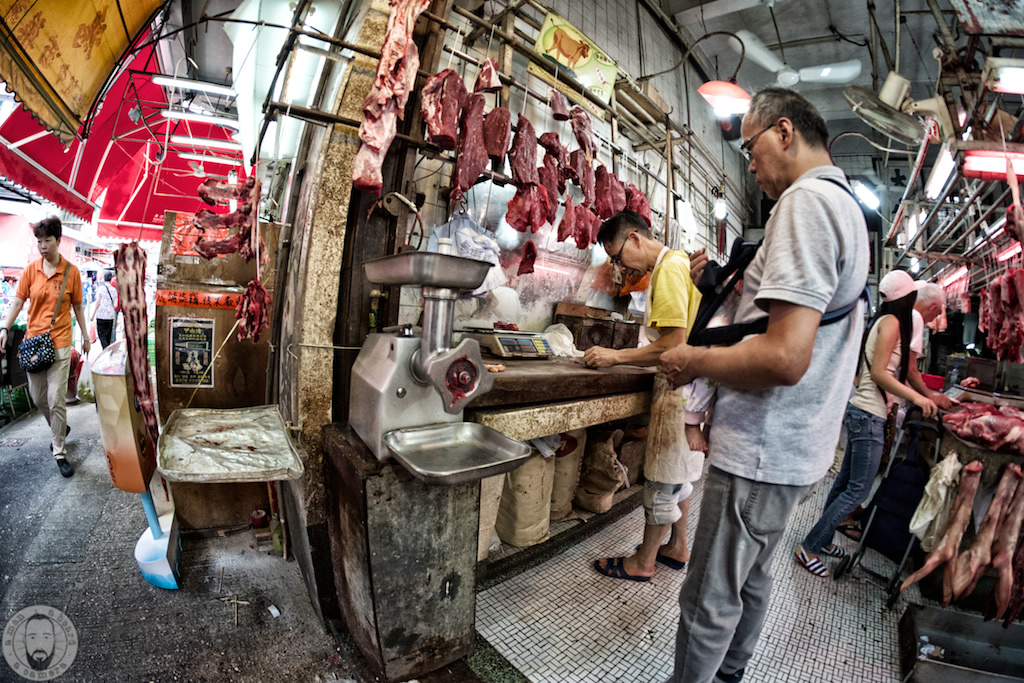 Things you take for granted #48 - Going to the butcher shop.
This is one of the better butchers in Sham Shui Po. It has a roof and walls...
Most are just stalls with a chopping block. There is no refrigeration.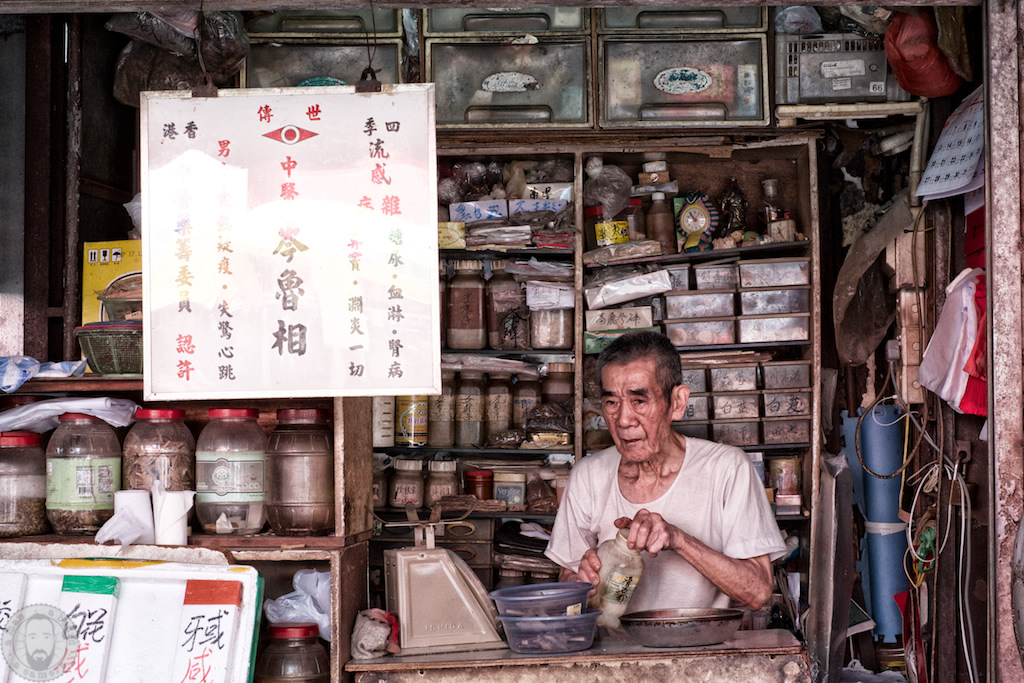 The Herbalist
There was probably a time when this bloke was the 'go-to' man for herbs and medicinal products. Now there are dozens of clean, brightly lit and well presented shops selling the latest and greatest with professional, well dressed staff. I stood nearby and watched as a number of elderly customers bought products from him. I have to wonder if their patronage was out of habit, or loyalty to the old man.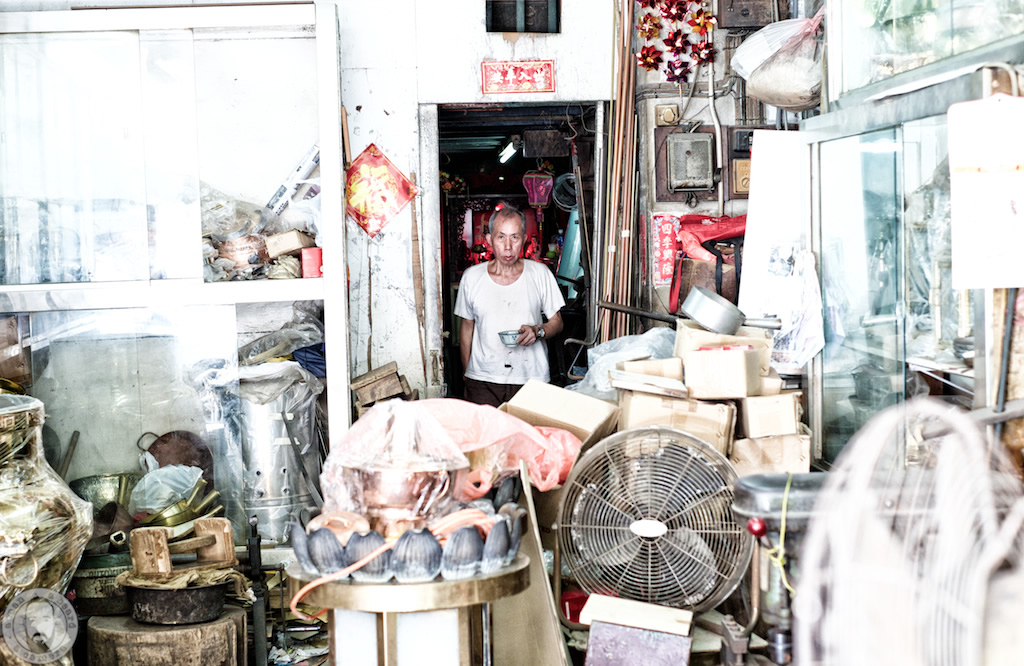 New, Used & Recycled
Sham Shui Po is surrounded by affluence. Nearby Victoria City and the Chinese megatropolis of Shenzhen just across the boder are 'throw away' societies. Everything is shiny and new. Not so in Sham Shui Po - if it's broke you fix it. Bric-a-brac shops like this (complete with work bench) are common.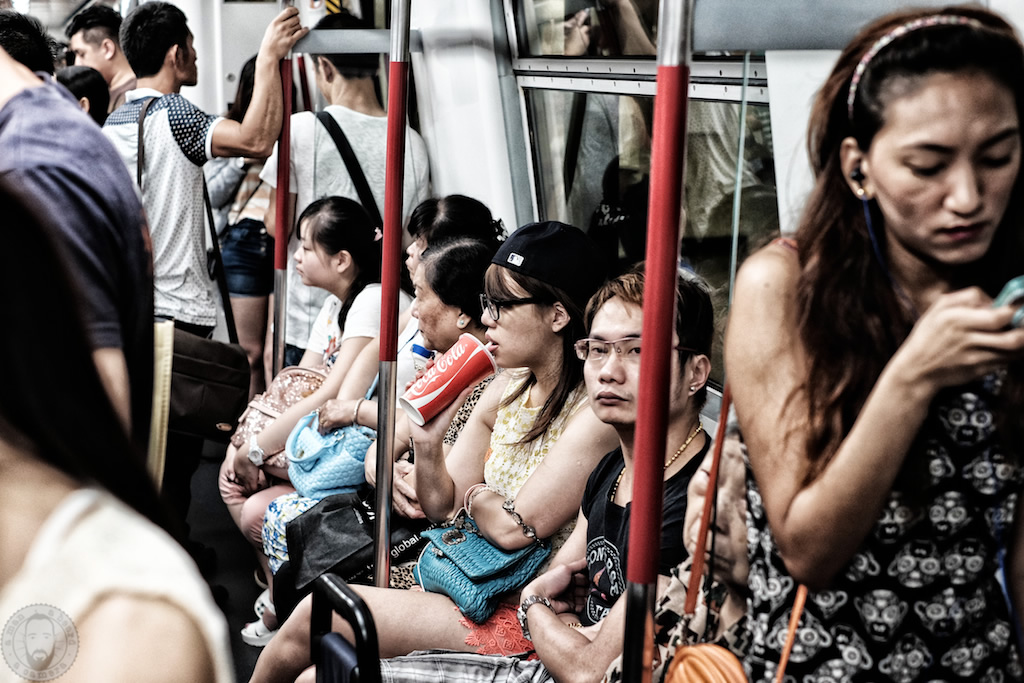 New Kids on the Block
With an aging population and a high demand for space to build new highrises, I wonder what the future holds for Sham Shui Po. There are fears the Hong Kong government will force out the immigrants and remaining (poor) Hong Kong citizens in favour of land deals with wealthy developers. Will the new generation with their fast cash and internet lifestyle really care? Perhaps it will go the way of the dinosaurs and people will reminisce about the 'old days' as they drive through.
If you are a traveller that likes to get off the tourist trail and rub shoulders with the locals then I can highly recommend a visit to Sham Shui Po. It's old, dirty and chaotic, but you'll love it!
Getting there and staying -
Qantas took me there in comfort and style. They have daily flights to Hong Kong.
I stayed at and can highly recommend the Kala Boutique Hotel. It's small, but very clean and right across the road from all the action.
Use the MTR (subway) to get around. It will get you all over Hong Kong and it's so cheap you'll laugh!
All my photos were taken with my Fujifilm X-E2. It's small, light, discreet and renders beautiful colours.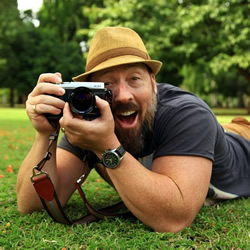 Posted By Nathan
Hi there! I'm Nathan Brayshaw, an adventure travel photographer and writer based on Queensland's Gold Coast in Australia. I've always had a deep love for nature and a yearning to explore the world, which has led me on thrilling expeditions to remote and exotic destinations.

As a photographer, I'm passionate about capturing the raw beauty of our planet, from breathtaking landscapes to awe-inspiring wildlife, and everything in between. My camera is my constant companion as I journey through dense jungles and summit towering peaks, always in search of the perfect shot that tells a story.

In addition to my photography, I'm also passionate about writing, as it allows me to share my experiences and insights with a wider audience. I believe that through my work, I can encourage others to step out of their comfort zones, explore the unknown, and embrace the thrill of adventure.

With my passion for exploration, my camera in hand, and my heart set on discovering the world's wonders, I'm constantly pushing the boundaries of adventure travel photography and writing. Join me on this incredible journey as we uncover the breathtaking beauty and diverse cultures that our planet has to offer.
Updated : 23rd July 2021 | Words : 1064 | Views : 3495
Comments