Borneo. A single word that conjures up images of tropical jungles, wild animals and endless rivers. Oh, and of course Orangutans. I have dreamed of Borneo since geography class and watching David Attenborough when I was a kid.
Well let me tell you it didn't disappoint.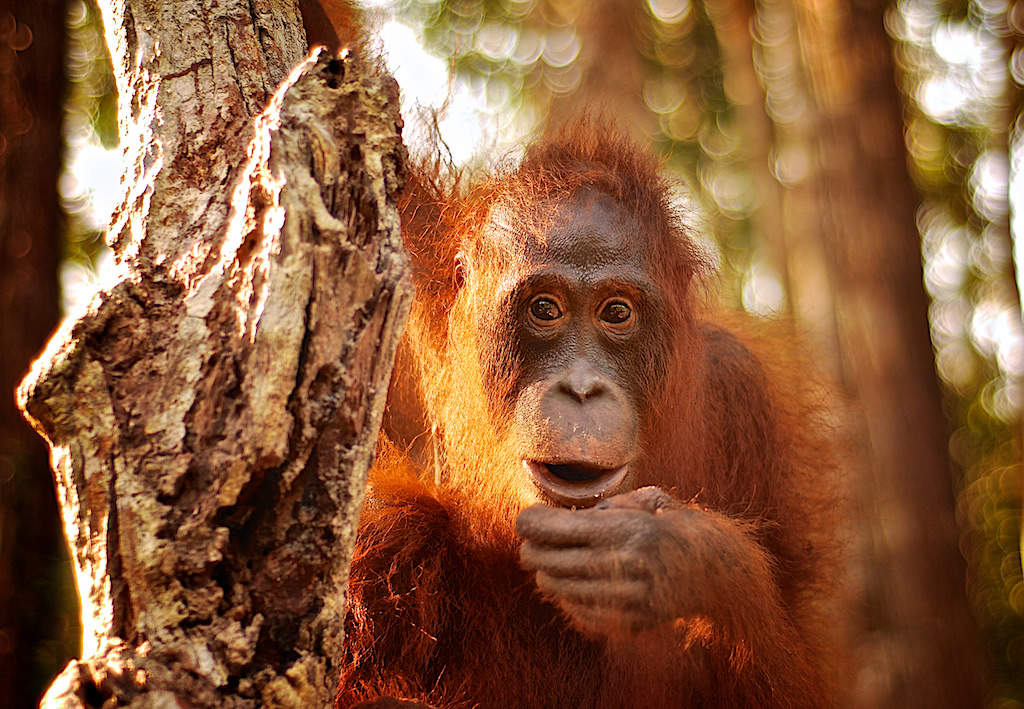 'Charli' - a wild-borne Orangutan at Camp Leakey
Before I go any further I should explain that when I say Borneo I mean Kalimantan - the Indonesian side of Borneo. In case you didn't know 73% of Borneo belongs to Indonesia, 26% to Malaysia and the remaining 1% is Brunei. Malaysia has RUINED their share of Borneo with Palm Oil plantations. Our adventure took place in Central Kalimantan, Indonesia. Of the 'Big 3' (Amazon, Congo & Borneo) Kalimantan is the most affordable and accessible.
Getting to Central Kalimantan is an adventure in itself. There is only one flight each day that leaves from either Surabaya or Jakata at around 9am. If the weather is bad, as it often is in the tropics, it doesn't fly. Oh, and it's a very small plane, so it's a white knuckle ride at times. Landing in Kalimantan at the tiny Pangkalan Bun airport is a bit of a culture shock even to those experienced in travel. It's chaos and there doesn't seem to be any rules. The only white people, we waited by a hole in the wall which turned out to be the luggage 'portal' with the locals. When the bags appeared it was a free-for-all as everyone pushed and shoved and dived for bags!
Pangkalan Bun is largely unremarkable. It's a port town with shipping services between Kalimantan and Java. It is also the jumping off point for Tanjung Puting National Park and Camp Leakey.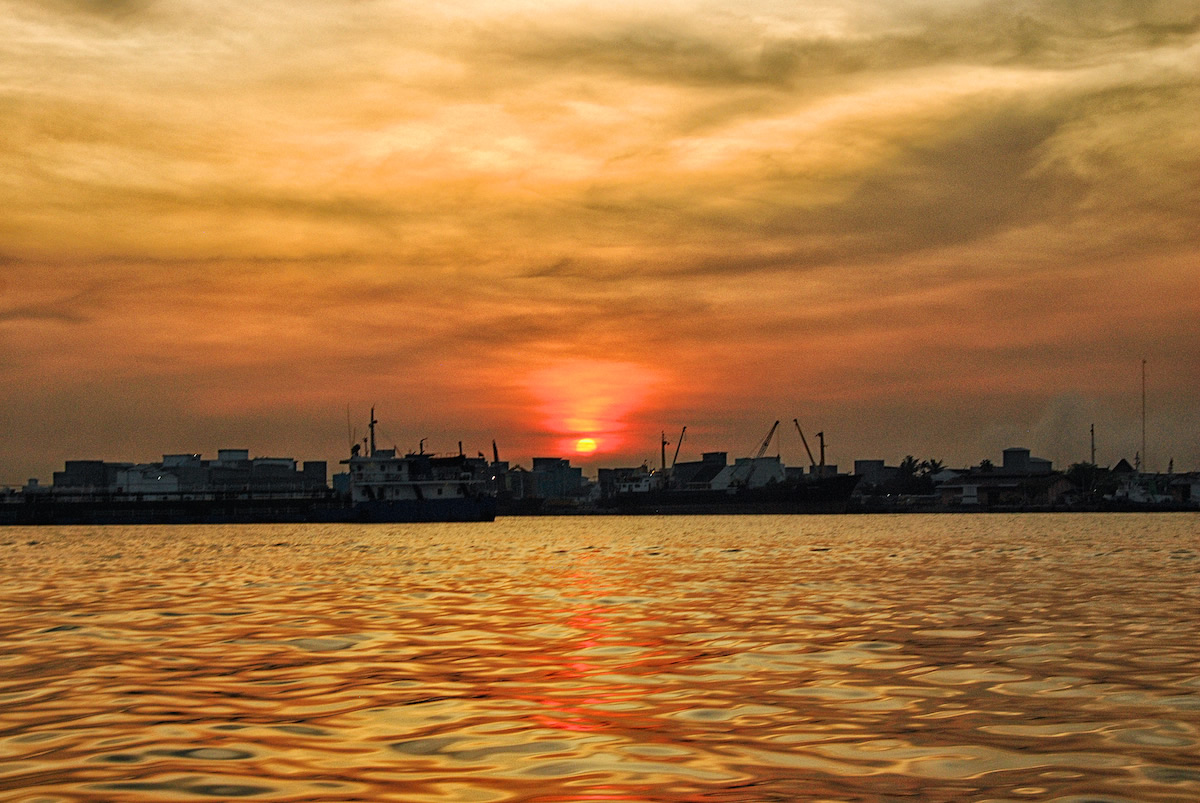 Sunset over the Lamandau River - Pangkalan Bun, Central Kalimantan
Our adventure into the jungle started a little late. The sun was setting fast as we sped up the Sekonyer River in a very old, massively overpowered speed boat to meet our Klotok - our home for the next three days. It was all fun and games until the sun completely set. So, one of the guides sat on the bow and shone a torch on the water to light the way. The skipper didn't slow down at all. Then the torch died. It's VERY dark in the jungle with no light! Luckily there was a boat in the distance and we chugged along slowly until we reached it and were able to borrow another torch. From there it was only 10 minutes or so and we were boarding our boat. It was dark and we were tired and hungry. We had been travelling for about 16 hours in the heat and humidity and were well and truly ready for bed.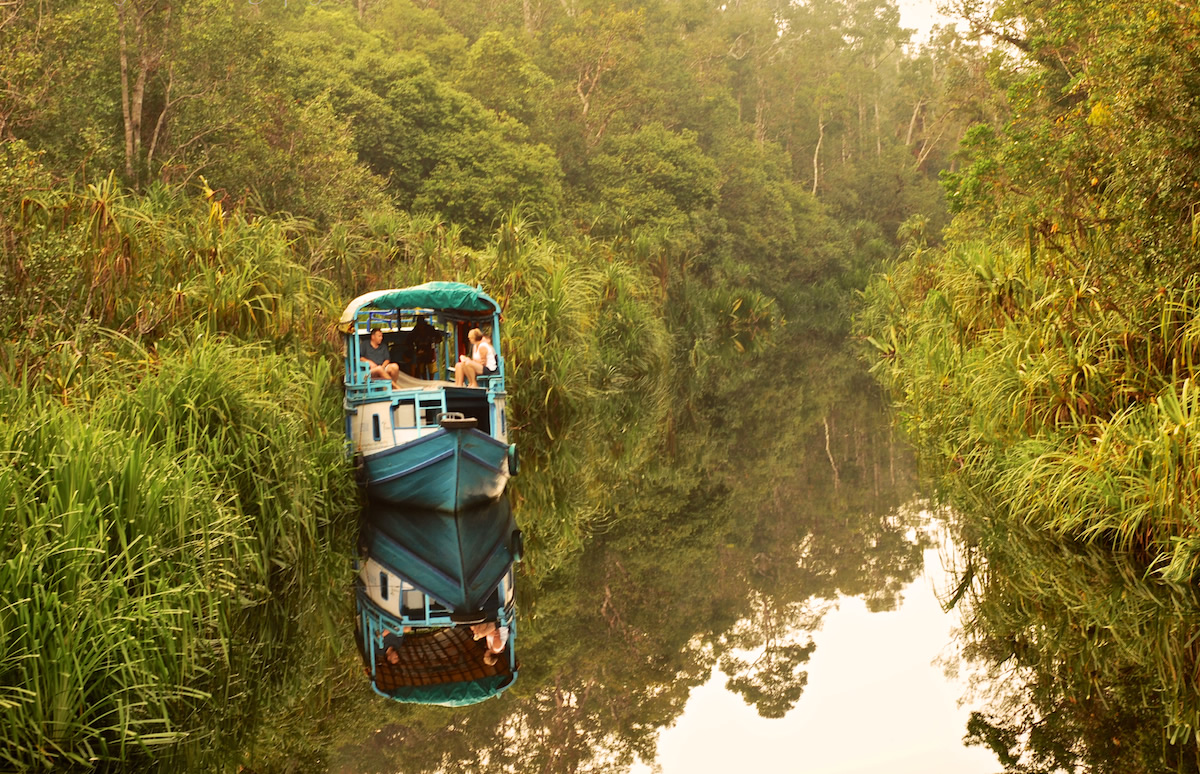 Klotok on the Sekonyer River - Tanjung Puting National Park, Central Kalimantan.
Nothing could have prepared us for what we saw the next morning. The river was dead still, the green-green jungle reflecting on the waters surface. It was magical!
A bit about the Klotok. It's a wooden boat powered by a diesel engine that just chugs along the river. It has an upstairs / downstairs, a shower and a toilet. The crew (the Skipper, a guide and a cook) live downstairs while the guests stay upstairs. The shower is water pumped directly from the river - a clean, oily textured water that smells of Tea-Tree due to the peat bogs. We instantly fell in love with our boat. We ate, slept and lounged on the deck for three days as we cruised along the river spotting wildlife and stopping off to go find Orangutans.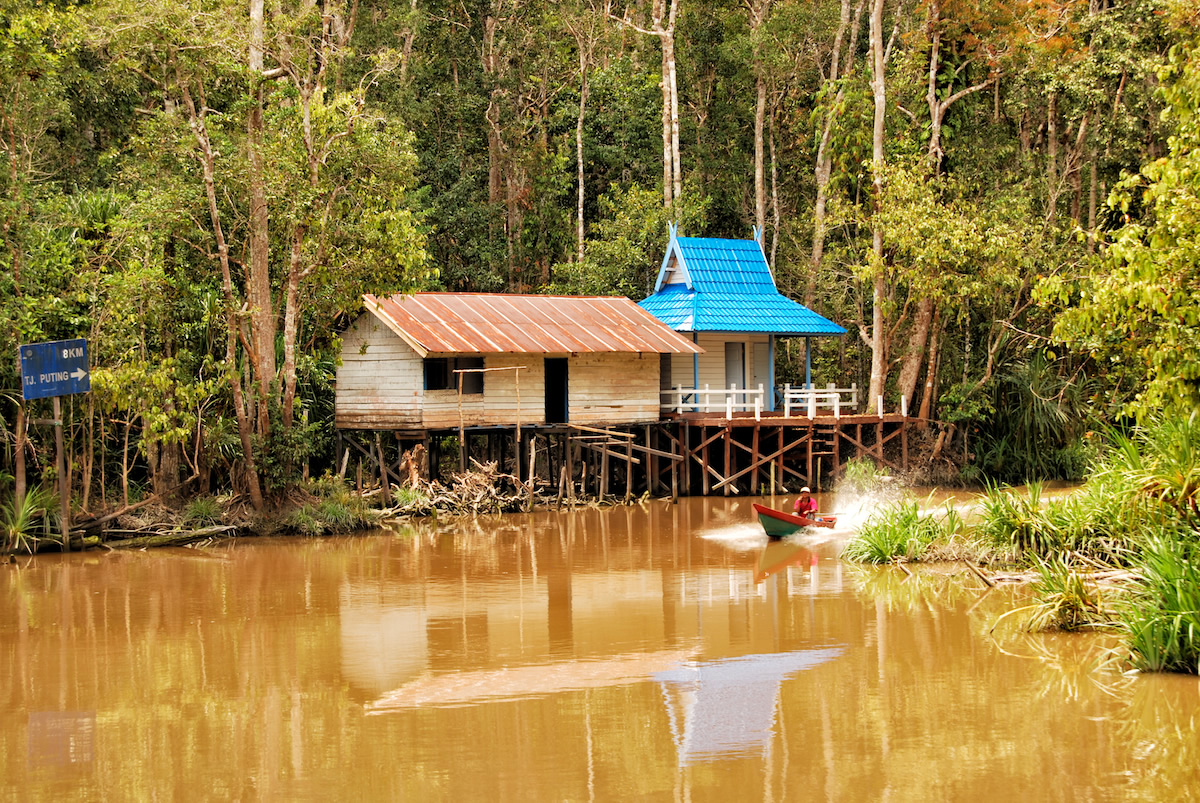 This Way - Tanjung Puting and Camp Leakey
Finally we had arrived. The middle of the jungle. Borneo! And shortly after breakfast the skipper has pulled up alongside the dock the lead to Camp Leakey. I could hardly contain my excitement. I'd waited so long to be here.
For those that don't know Camp Leakey was a research (and now rehabilitation) centre founded in 1971 by Dr Birute Galdikas and her husband. It was established as a safe are to release Orangutans rescued from the pet trade and to rehabilitate captive born baby Orangutans into the wild. Then in 1986 the Orangutan Foundation International (OFI) was developed, dedicated to the conservation of Orangutans and their environment.
This is the part were I tell you the Bornean Orangutan is and endangered species while the Sumatran Orangutan is critically endangered. Orangutans are our closest relative. We share 97% of our DNA, yet we are driving these animals to extinction by illegal logging, land clearing for Palm Oil plantations, hunting and the illegal pet trade. It is both depressing and disgusting that this continues in the 21st century.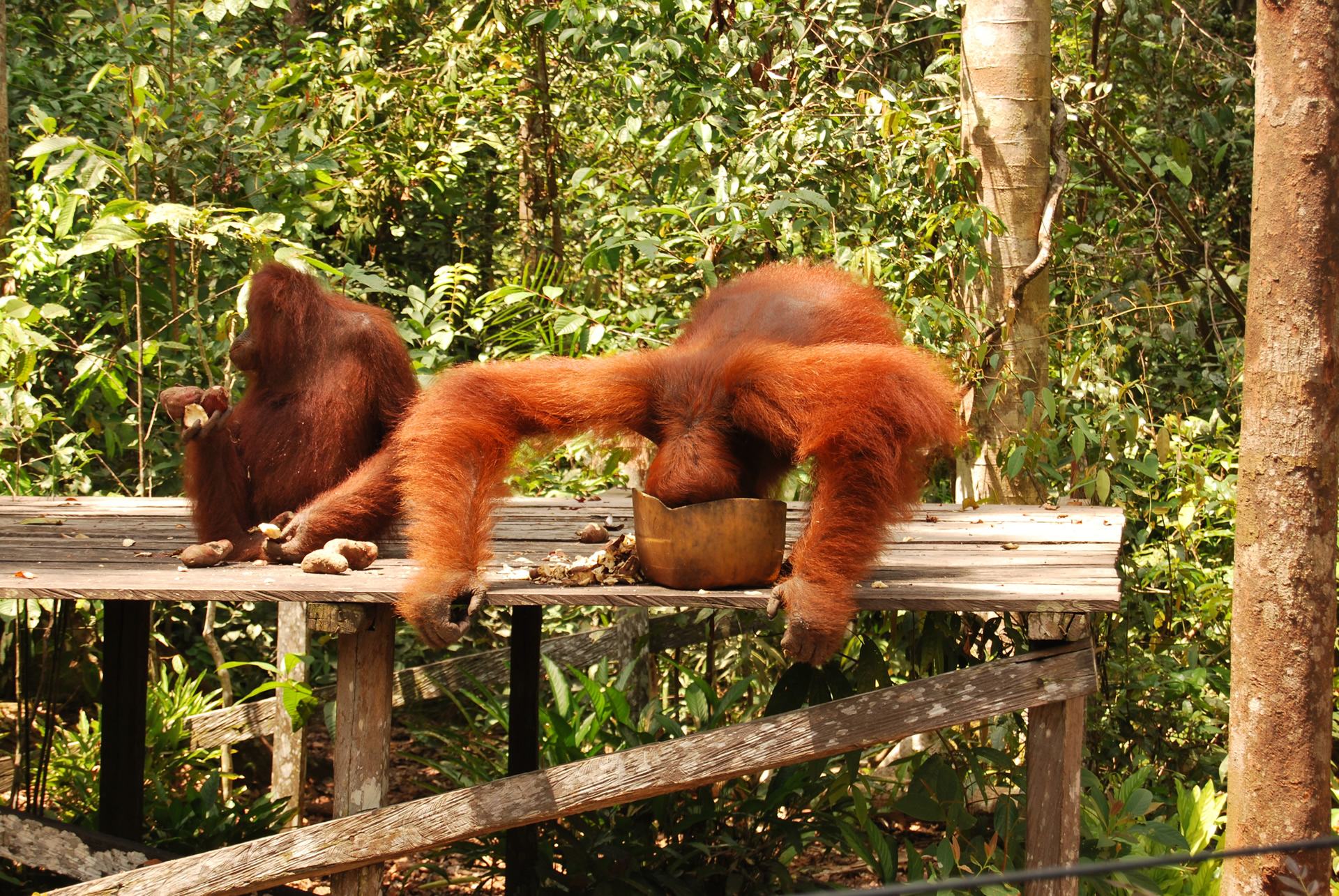 Lunch-time - the feeding platform at Camp Leakey
Being up close to a wild Orangutan is amazing. All the superalatives apply here. To sum it up Orangutans are just like hairy humans, only more gentle. We share 97% of our DNA with Orangutans and 99% with chimpanzees, however we are more closely related to Orangutans because a small portion of our DNA is the same. You can see it in their manerisms and interaction with others.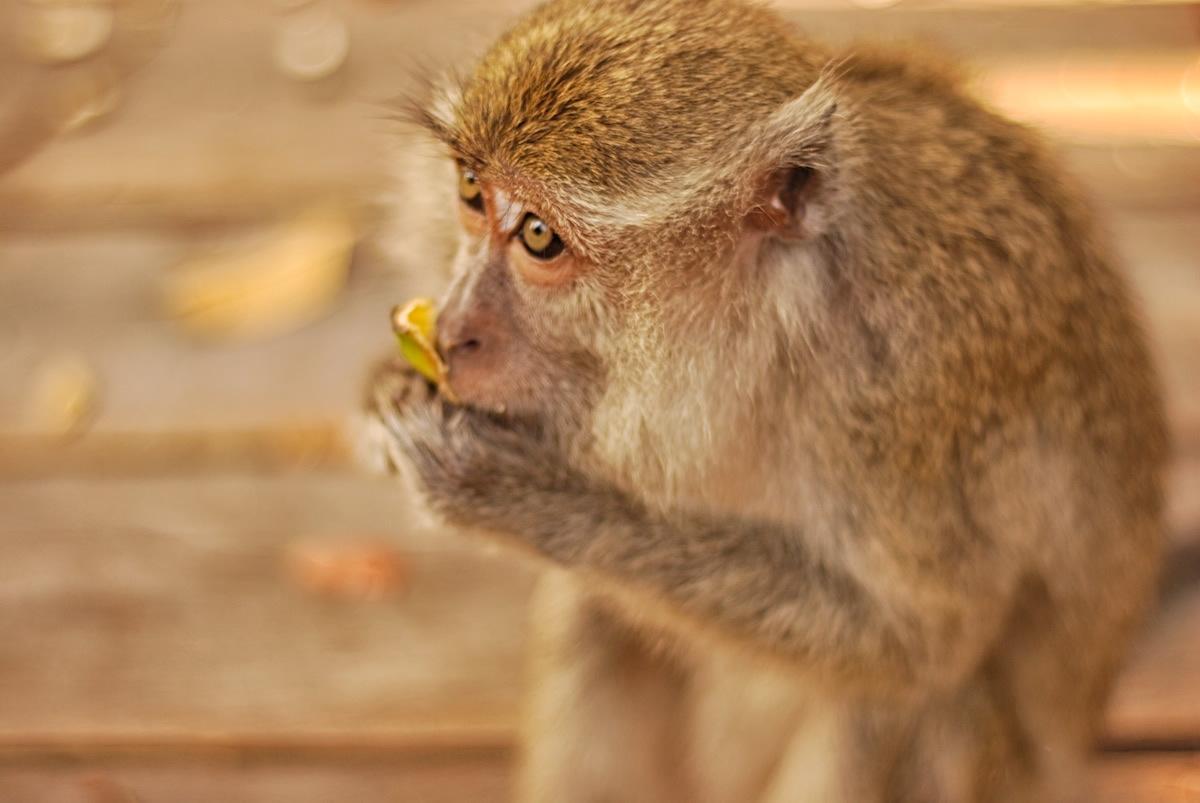 Long-Tailed Macaque - Camp Leakey
Kalimantan isn't all about Orangutans. Cheeky little Pig-Faced and Long-Tailed Macaques are prevelant, their antics ever entertaining. There are also Proboscis Monkeys, gibbons, crocodiles, all kinds of snakes, more birds than you could ever count and about one billion types of bugs and creepy crawlies! Whatever you do, have your camera ready.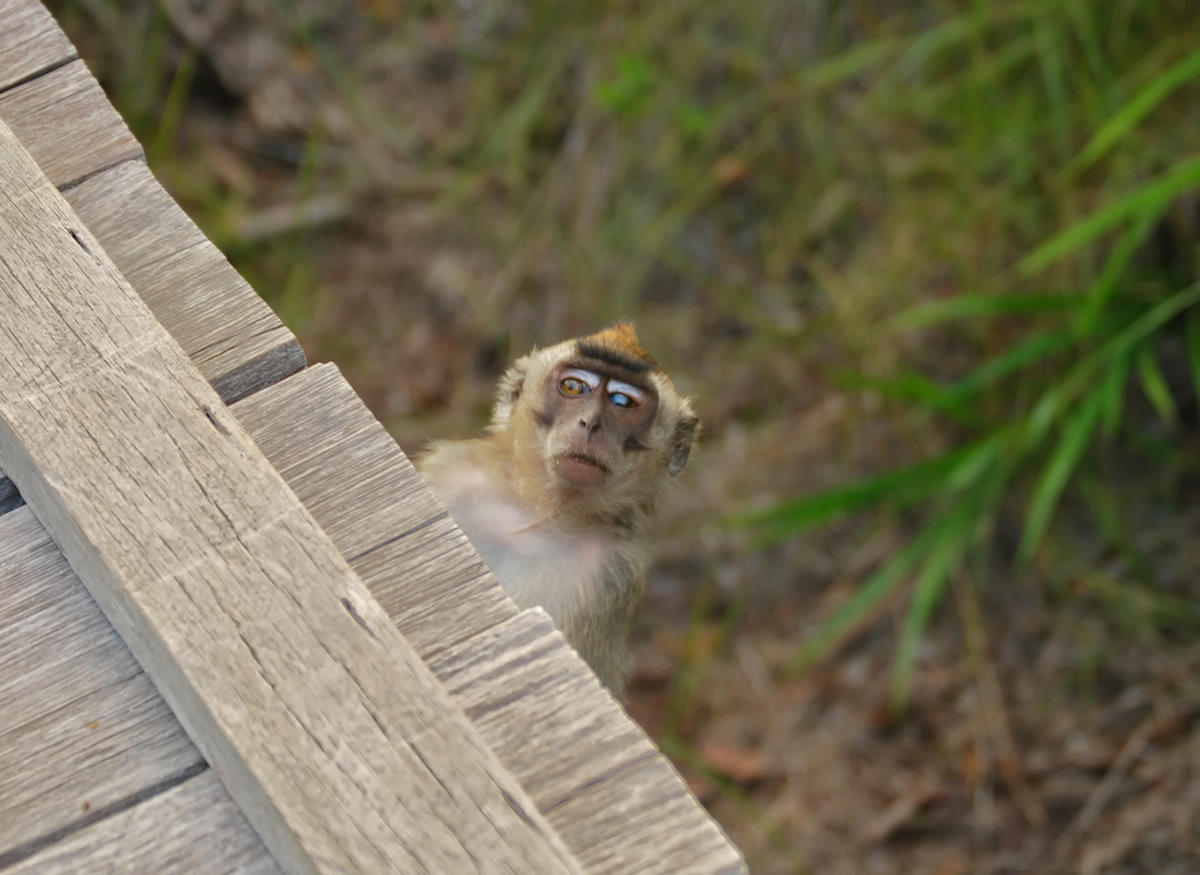 Stalker - A Pig-Faced Macaque. He followed us for miles, popping up every now and then to make a grab at our things.
If I have piqued your interest and you would like to go see Kalimantan, here's how.
We flew
Air Asia
from the Gold Coast to Surabaya in Java, Indonesia.
From Surubaya we flew with Trigana Air to Pangkalan Bun.
Kalstar Aviation bought us back to Jakarta from Pangkalan Bun.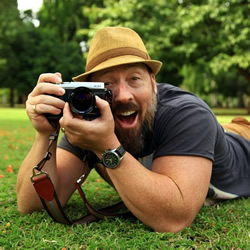 Posted By Nathan
Hi there! I'm Nathan Brayshaw, an adventure travel photographer and writer based on Queensland's Gold Coast in Australia. I've always had a deep love for nature and a yearning to explore the world, which has led me on thrilling expeditions to remote and exotic destinations.

As a photographer, I'm passionate about capturing the raw beauty of our planet, from breathtaking landscapes to awe-inspiring wildlife, and everything in between. My camera is my constant companion as I journey through dense jungles and summit towering peaks, always in search of the perfect shot that tells a story.

In addition to my photography, I'm also passionate about writing, as it allows me to share my experiences and insights with a wider audience. I believe that through my work, I can encourage others to step out of their comfort zones, explore the unknown, and embrace the thrill of adventure.

With my passion for exploration, my camera in hand, and my heart set on discovering the world's wonders, I'm constantly pushing the boundaries of adventure travel photography and writing. Join me on this incredible journey as we uncover the breathtaking beauty and diverse cultures that our planet has to offer.
Updated : 23rd July 2021 | Words : 1035 | Views : 4127
Comments