Recently some family friends visited the Gold Coast from frosty old Canada. I was keen to show them that there is more to the GC than the beach and theme parks. So, over dinner and a few beers, I told them to get a good nights sleep and I'd see them at 6:30am the next morning.
1. Kangaroos in the wild.
7:00am - Coombabah Wetlands. Enter via Rain Tree Glen Road, Coombabah.
Entry price - free.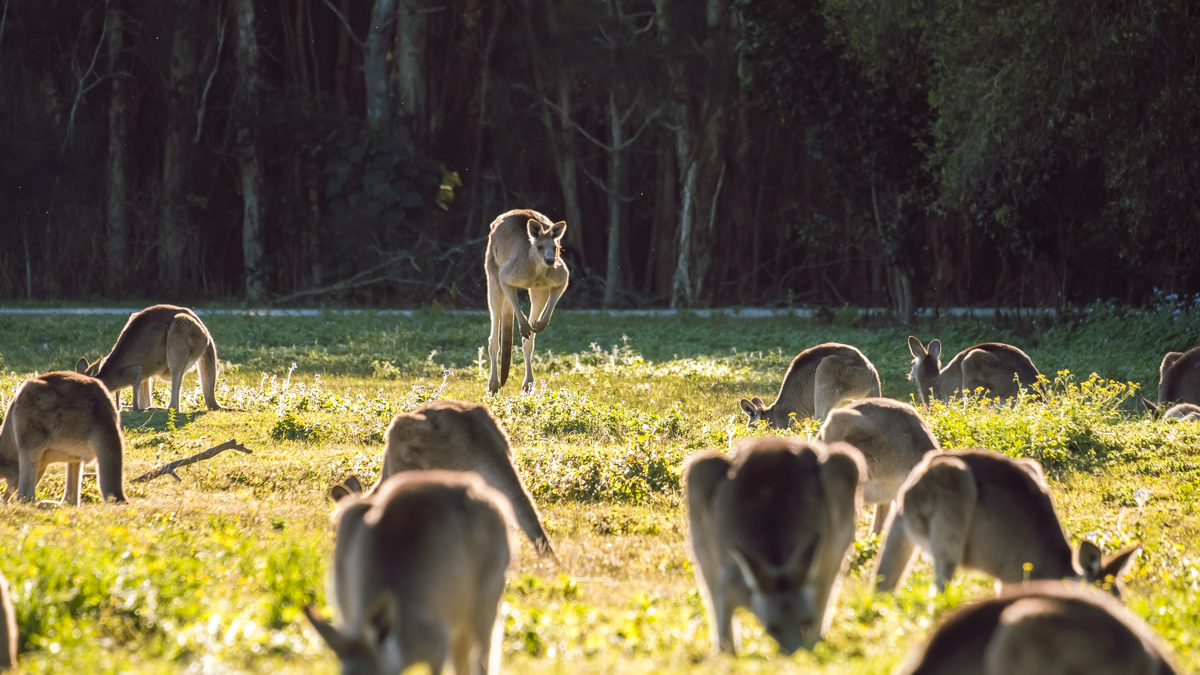 It's the early bird that catches the kangaroos eating , so there's time for a quick breakfast before the 12km (25min) drive from Surfers Paradise to the Coombabah Lakelands Conservation Area to see the kangaroos grazing on the open grasslands.
The area, which includes eucalypt forest, mangroves and salt marsh, is home to koalas, powerful owls, flying foxes and 270 other species of wildlife. It really is an environmental wonderland in the heart of suburbia.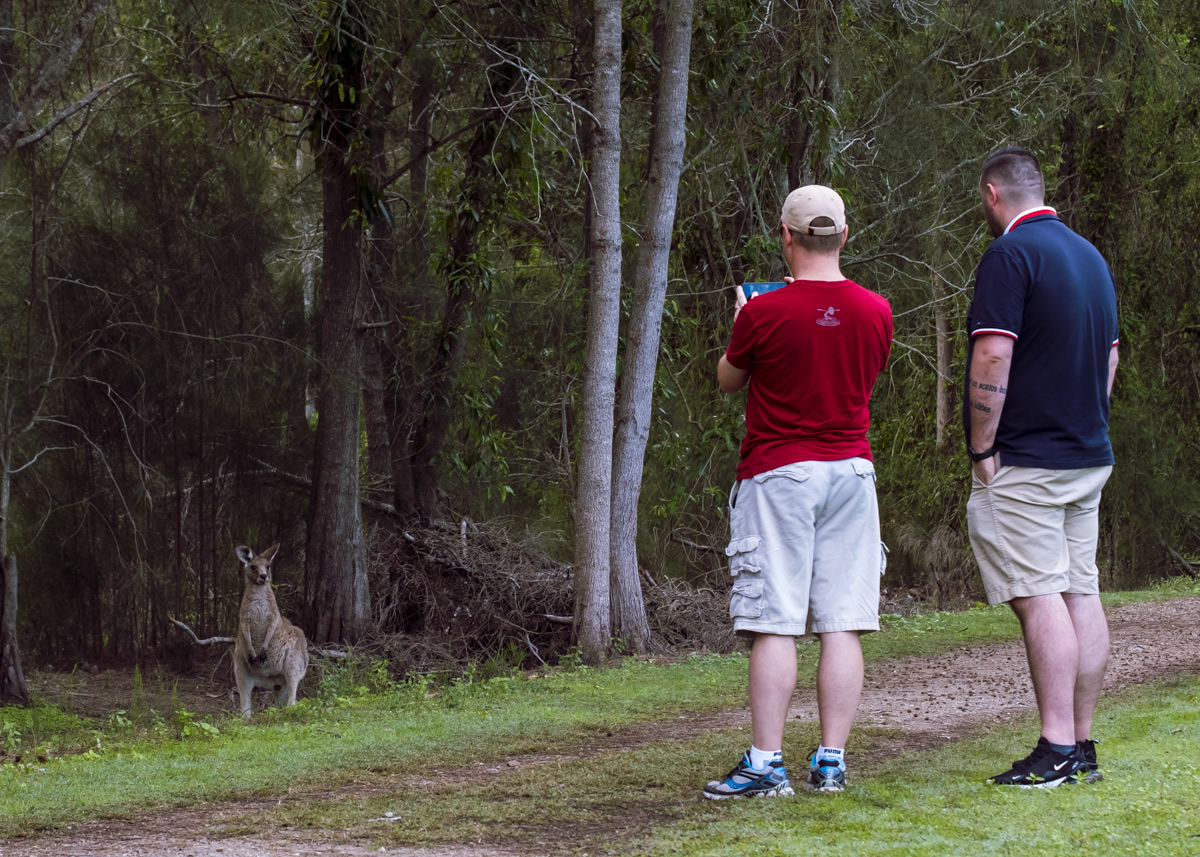 However, it's the opportunity to see a kangaroo in the wild that attracts visitors. While us Aussies take a lot of things for granted, overseas visitors like my mates Dave and Gary were over the moon at getting to see kangaroos in the wild (even though they have moose, bears and the Royal Canandian Mounted Police).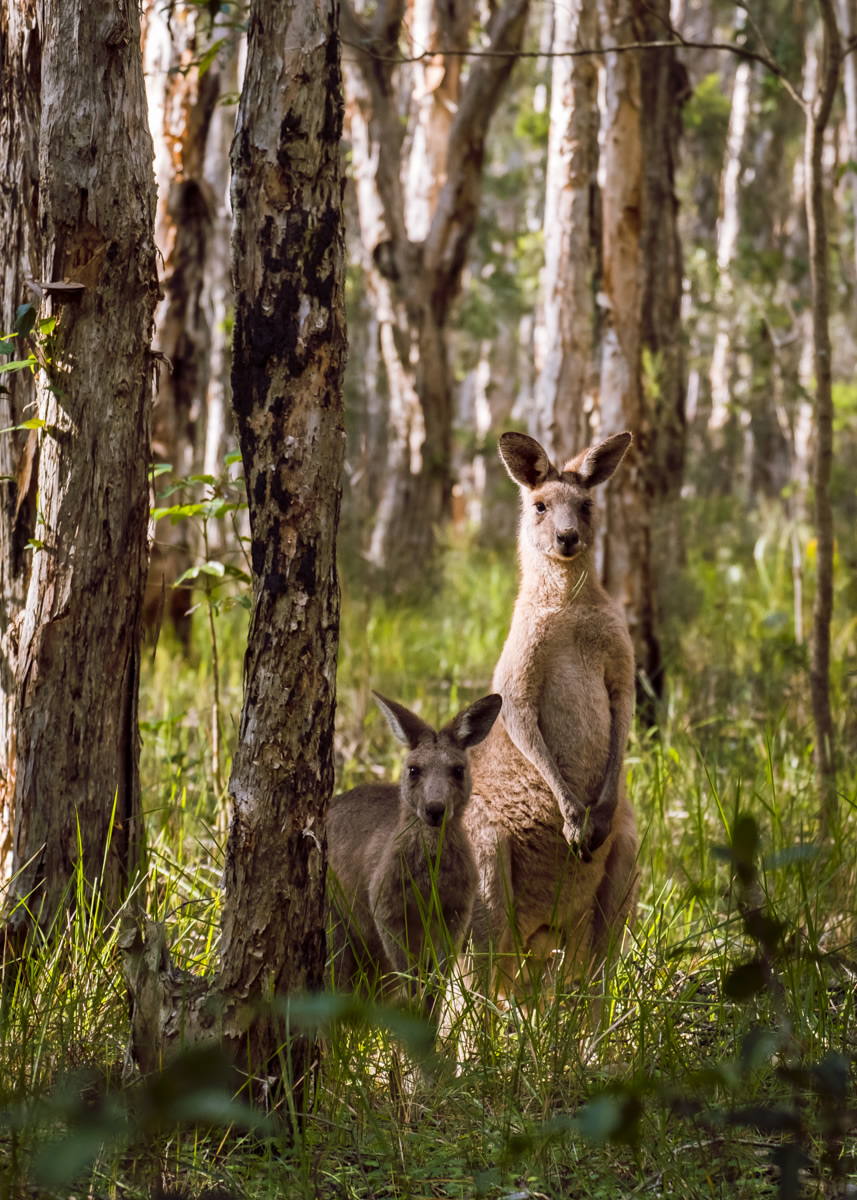 Well know among locals, Coombabah Lakelands is not on the tourist trail. Chances are that if you schedule a mid-week visit you will have the whole place to yourself.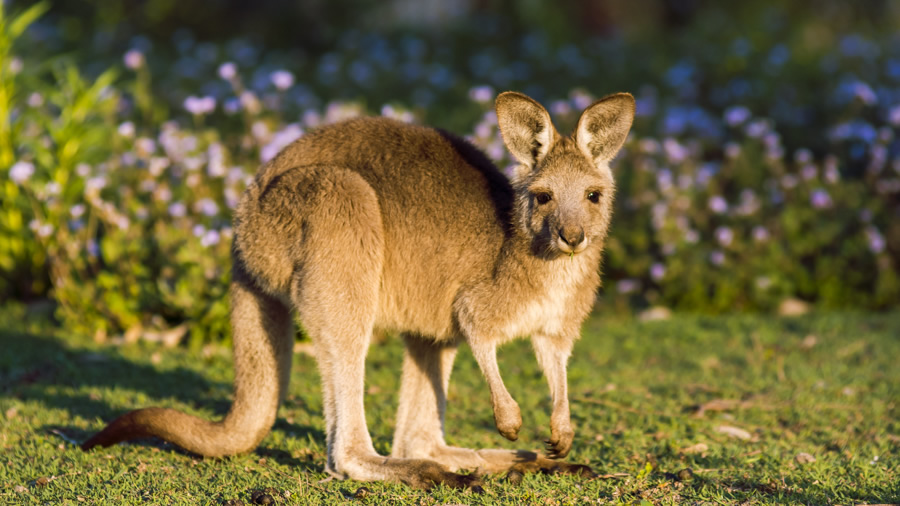 There's a few simple, unwritten rules:
Don't touch the animals
Don't feed the animals
Stick to the trails
Supervise your children
By 8:00am the sun is up over the trees and the kangaroos retire to the shadows for a nap, so it's time to hit the road for destination number two.
2. Rainforest walk.
9:00am - Curtis Falls Track, Tamborine National Park.14-18 Dapsang Drive, Tamborine Mountain.
Entry price - free.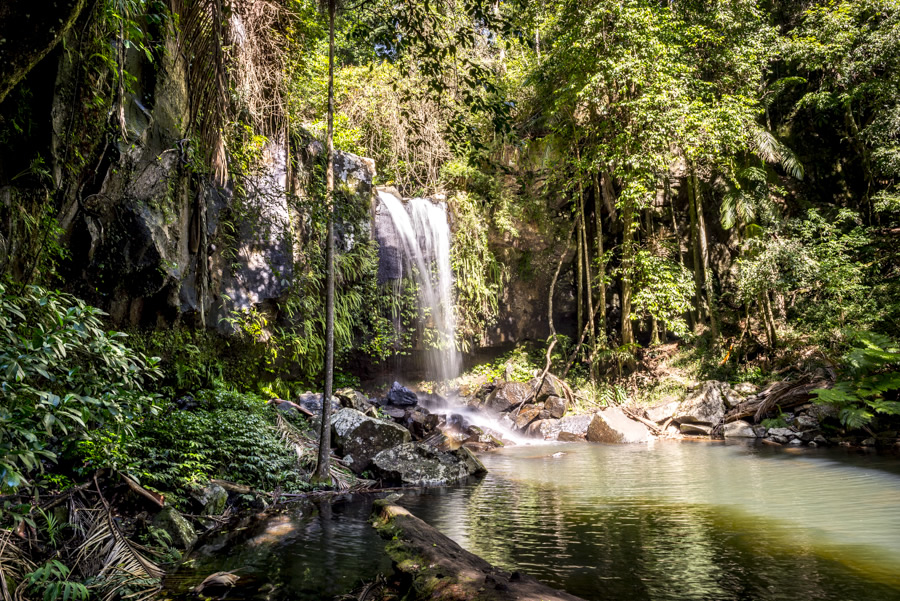 From Coombabah, it's a leisurely 45min drive uphill into the Gold Coast Hinterland to Curtis Falls, one of the easiest, most accessible rainforest walks available. There are a myriad of rainforest walks and hiking trails in the Gold Coast / Scenic Rim area, ranging from short walks to multi-day hikes. Curtis Falls is one of those rare beauties where you can be immersed in sub-tropical rainforest nirvana within a 10 minute walk from the carpark.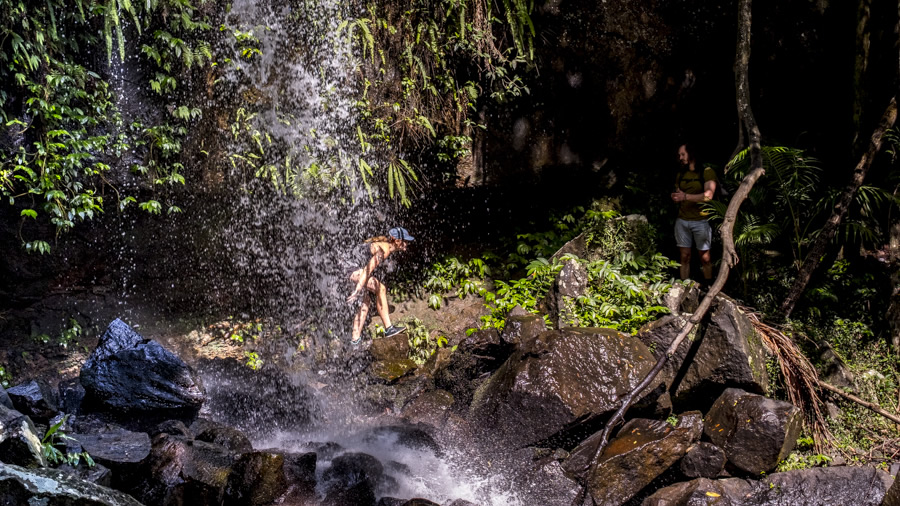 While your're here remember that waterfalls and rainforests are home to delicate flaura and fauna that are succeptible to damage by introduced pathogens (on your shoes) and from being trampled. So, whatever you do, don't be these people. Curtis Falls is fenced off and there is a sign prominently positioned requesting you don't enter the area. Sadly it seems the rules don't apply to everyone.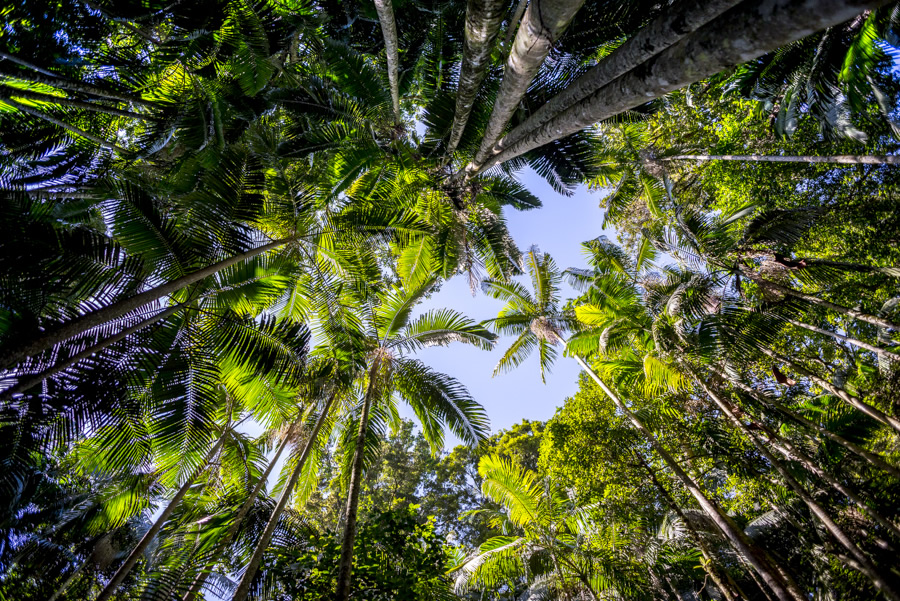 While it's important to watch were you're walking to avoid tripping on the exposed tree roots, don't forget to look up occasionally.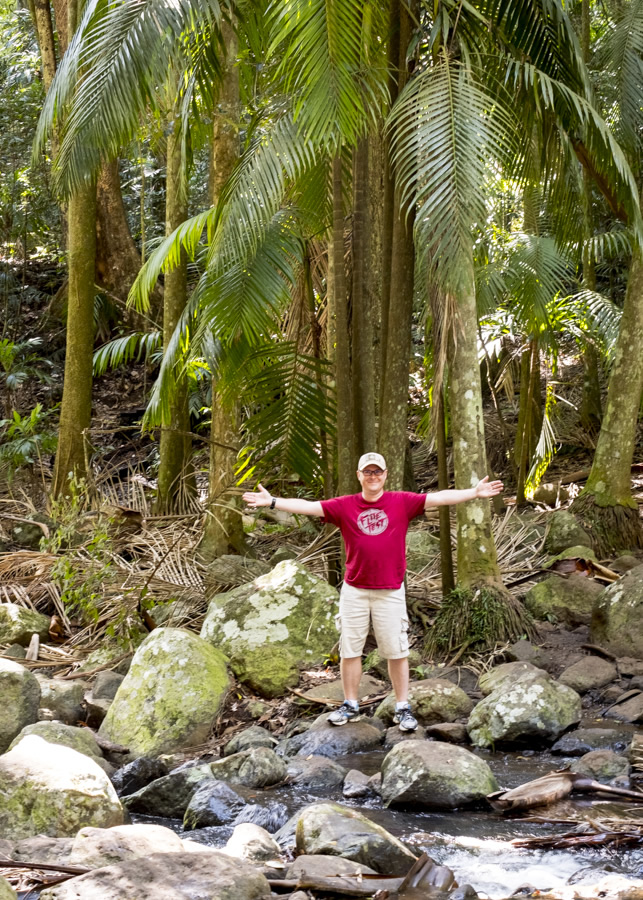 Dave about to be the first Canadian to conquer the Curtis Falls Creek crossing.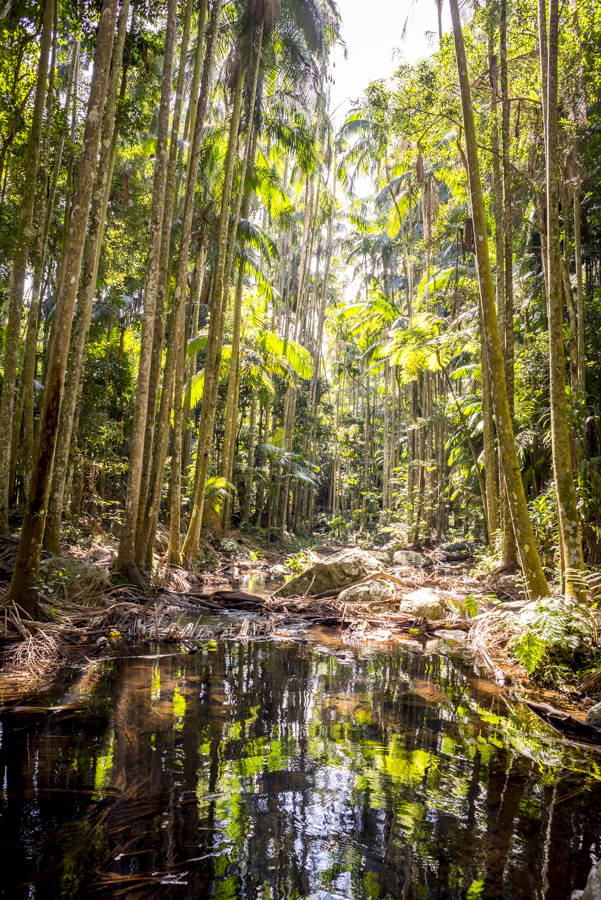 Welcome to the sub-tropical rainforest. How's the serenity! And not another person in sight.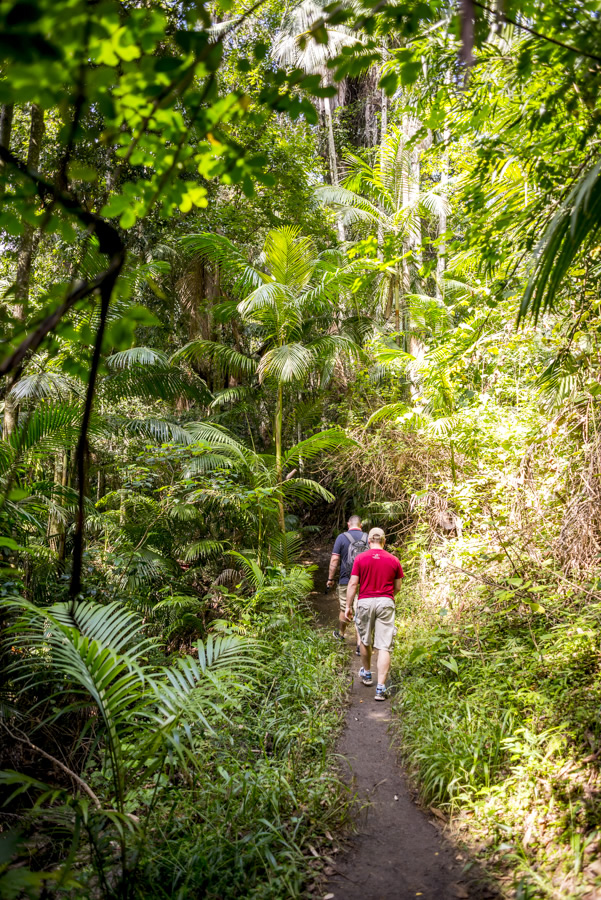 And just like that the 3km return walk is over and not a drop-bear in sight. On this day we took advantage of the beautiful conditions and slowed down to take a lot of photos. In all we took 2 1/2 hours to complete the walk.
3. Pelican feeding.
1:30pm - Charis Seafood, 371 Marine Parade Labrador.
Entry price - free.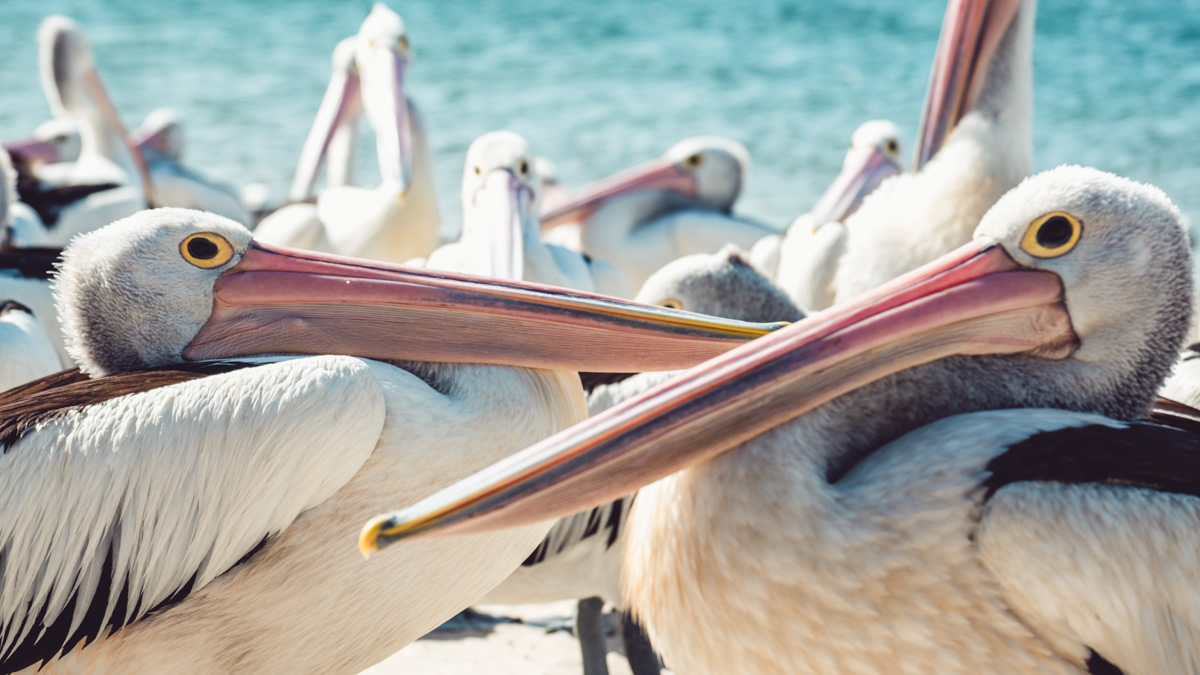 Destination three is a 40min (33km) drive back to the coast to Charis Seafood at Labrador. The unique pelican feeding happens daily at around 1:30pm (don't set your watch by it)daily and attracts quite a crowd, so don't be late because you might find it hard to get a car park.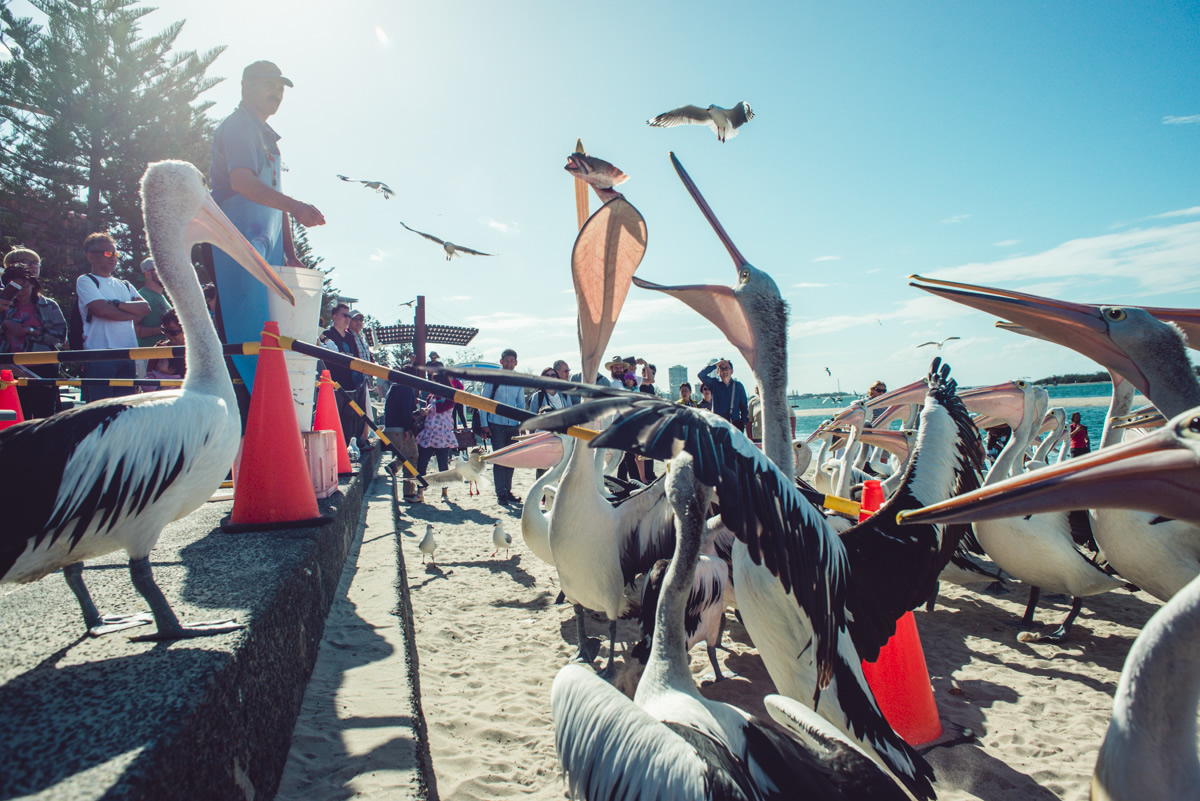 The pelicans, and a few marauding seagulls, are fed fish frames and off-cuts from the adjacent seafood restaurant. It's not unusual to draw a crowd of 50 or more pelicans and a few hundred seagulls.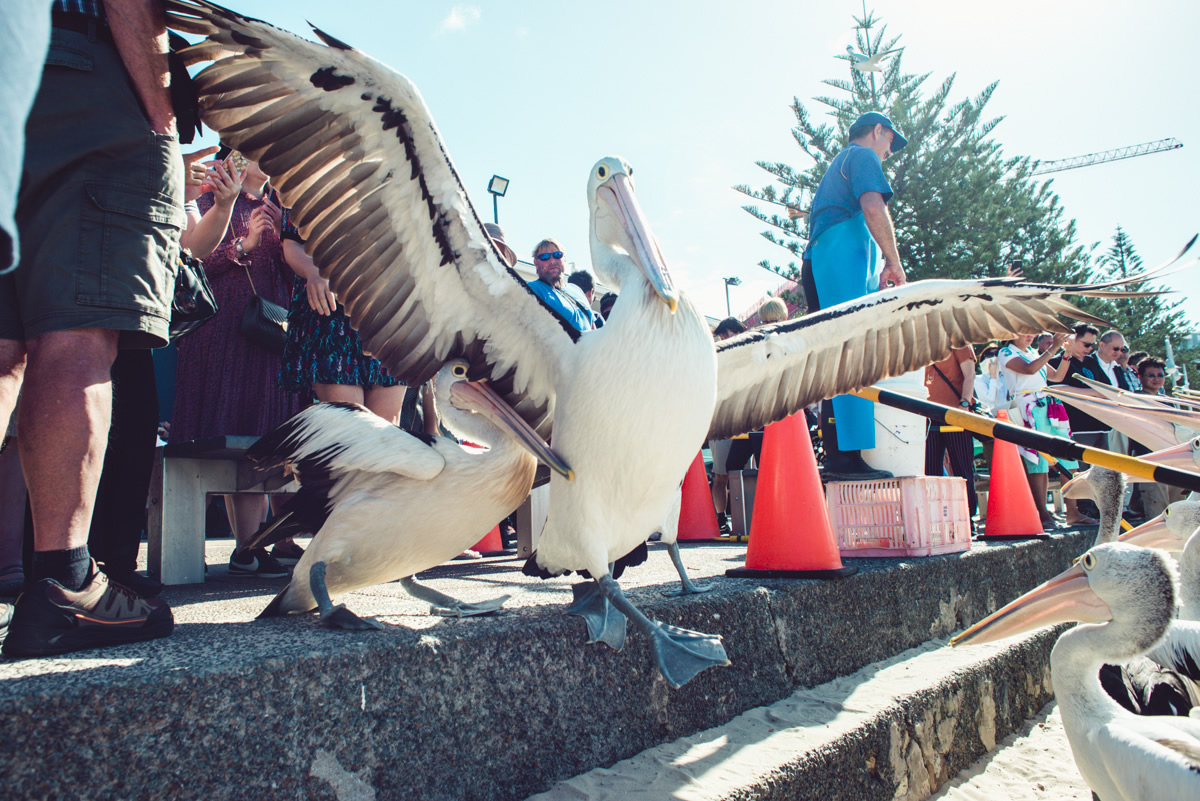 There's a fair bit of argy-bargy as the big birds jostle for prime position, and not every bird gets fed, but don't feel sorry for them. It's important that the birds don't become dependant on the handouts and forget how to fend for themselves.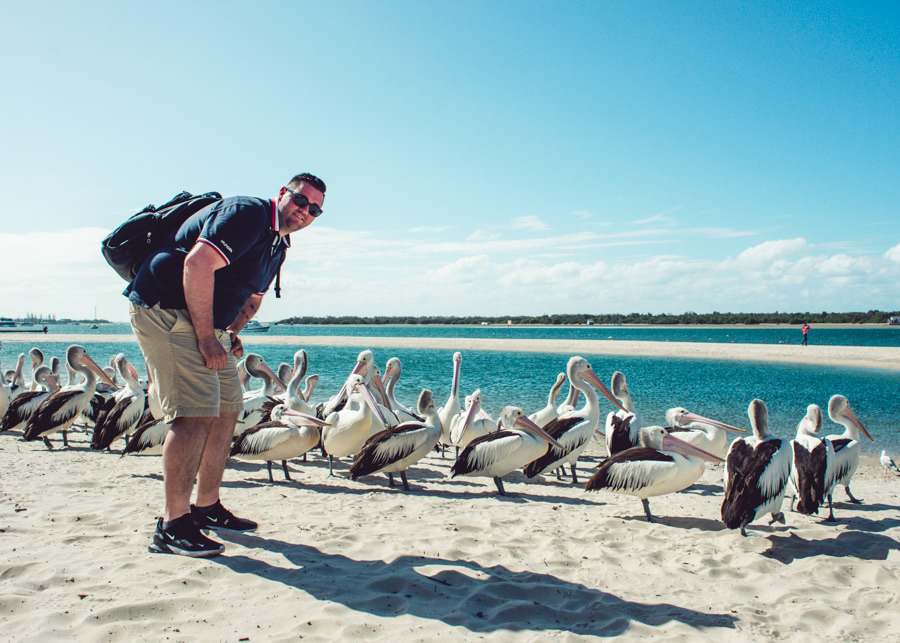 Me: Hey Gary, pop out there with the pelicans and I'll get your photo.
Gary: How's this?
Me: Stand-up mate, I've got the wide angle lens on.
Gary: .....
Me: I've got you covered. You can stand-up.
Gary: .......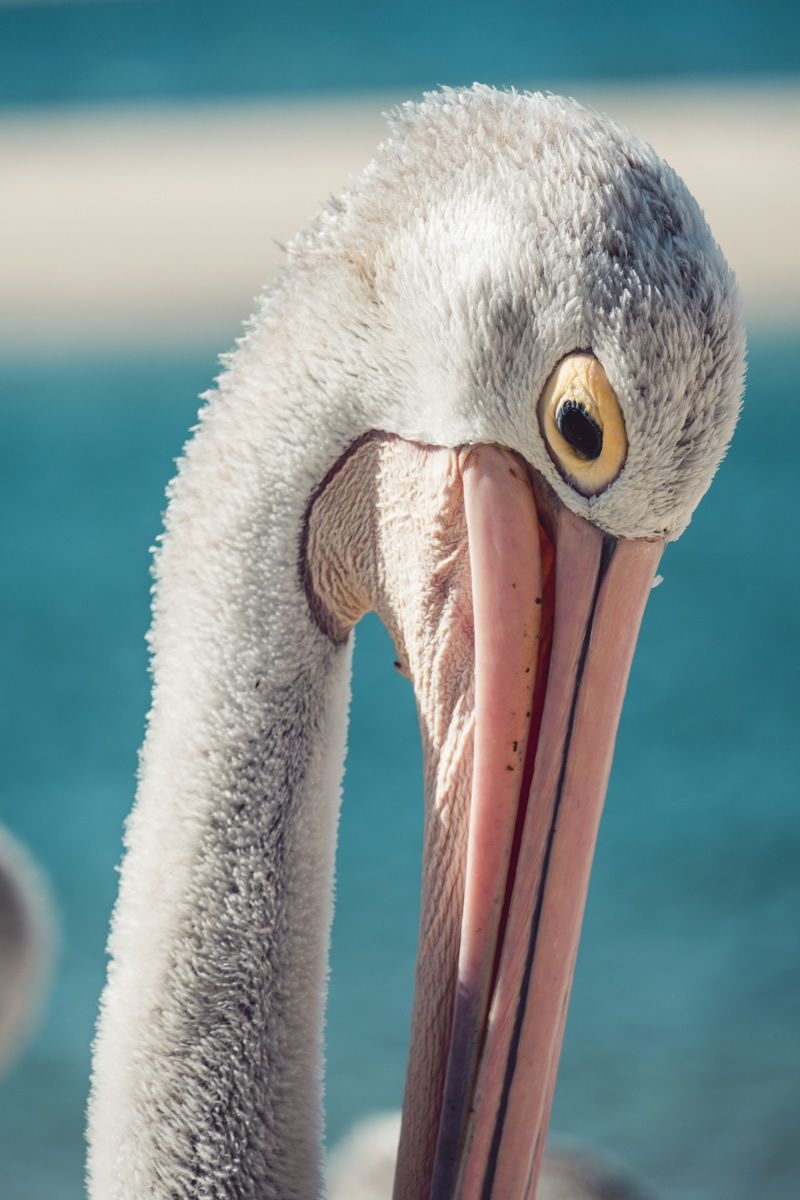 A quiet moment amongst the chaos.
And, by 2:00pm it's all over. Three very unique, free destinations in one day done and dusted.
On this day we crossed the road and had an excellent, well priced lunch at my favourite restaurant Kokonut Willies. There's also the choice of fish and chips if you so choose back at Charis Seafood. And by 3:00pm we were back home for an afternoon nap before heading out to dinner.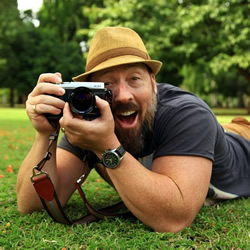 Posted By Nathan
Hi there! I'm Nathan Brayshaw, an adventure travel photographer and writer based on Queensland's Gold Coast in Australia. I've always had a deep love for nature and a yearning to explore the world, which has led me on thrilling expeditions to remote and exotic destinations.

As a photographer, I'm passionate about capturing the raw beauty of our planet, from breathtaking landscapes to awe-inspiring wildlife, and everything in between. My camera is my constant companion as I journey through dense jungles and summit towering peaks, always in search of the perfect shot that tells a story.

In addition to my photography, I'm also passionate about writing, as it allows me to share my experiences and insights with a wider audience. I believe that through my work, I can encourage others to step out of their comfort zones, explore the unknown, and embrace the thrill of adventure.

With my passion for exploration, my camera in hand, and my heart set on discovering the world's wonders, I'm constantly pushing the boundaries of adventure travel photography and writing. Join me on this incredible journey as we uncover the breathtaking beauty and diverse cultures that our planet has to offer.
Updated : 23rd July 2021 | Words : 803 | Views : 3447 | Comments : 2
3 Comments
1)
Hi there, nice post, I've only ever seen the touristy parts so saving this for the next trips. It's so FAB for overseas visitors to see a whole bunch of kangaroos!
Posted By Seana Smith on Sunday 6th October 2019 @ 06:42:52
2)
What a great day your Canadian Visitors were treated to. I love that you showed them 3 very unique & free destinations - all a true blue look at the Gold Coast Australian style. No doubt the Canadians enjoyed seeing Kangarros in their natural environment, the beauty of a rainforest, and the novelty of feeding Pelicans. I'm a huge Pelican fan and especially enjoyed your gorgeous photos
EMAIL : [email protected]
Posted By Estelle Anderson on Monday 30th September 2019 @ 19:28:43
1)
Hi Estelle, Thanks for dropping by and checking out my blog. The boys have promised to return the favour if I ever make it to Canada!
Posted By Nathan on Monday 30th September 2019 @ 19:28:43
Comments