The driving holiday has changed forever. Remember those trips when Dad would wake you up in the middle of the night, pack you into the car and you would take off at breakneck speed to 'beat the traffic'? Well long gone is the early morning wake-up and the uncomfortable, rushed drive. Now, the journey is as important as the destination. It's about slowing down, exploring little towns (it's always the bakery for me) and appreciating the beauty of our amazing country.
So, buckle up as I take you on a 10 day road trip from Queensland's Gold Coast. In this post we will cover the first leg from the Gold Coast to Roma.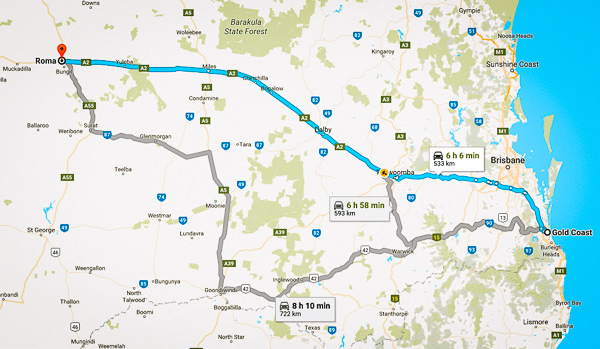 Only a six hour trip according to the map, we slowed down, sampled some local food on the way and did it in eight and a half.
With the truck packed the night before we set off at 7:00am after breakfast and a good nights sleep. I like to stop every two hours to stretch my legs so Toowoomba was the first 'comfort stop'. Why is this place always cold? My God, I've NEVER been to Toowoomba on a warm day!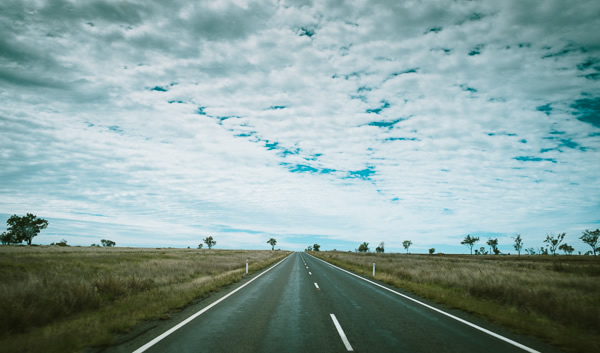 Ahhhhh....the wide open road!
On this first leg we had four seasons in one day, which made for some great photos. There had also been some big rain out west a week or so before our trip and some creeks and rivers were in flood. However, nearly all the roads had escaped any damage and were open, so there were no detours.
The Warra Pub. This beautiful old timber building was supposed to be our lunch stop. The sign on the door said "Open 2pm to 12pm Wednesday & Thursday and Saturday & Sunday". We were there at 12:30pm and it was closed. I'm not sure if we were too late or too early 'Warra time'.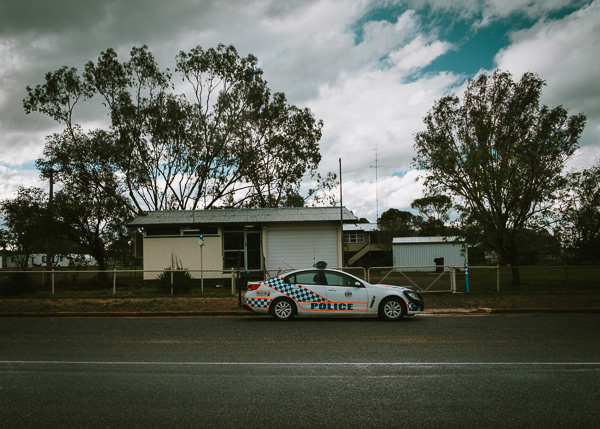 Just popping into the office. How's the serenity out at the Dulacca Police Station!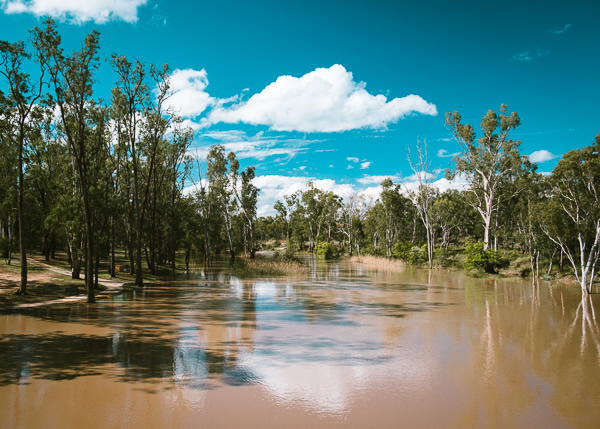 Further west we found the Dogwood Creek in flood. It looks so peaceful, yet it's so dangerous. My photo doesn't show the current and submerged trees.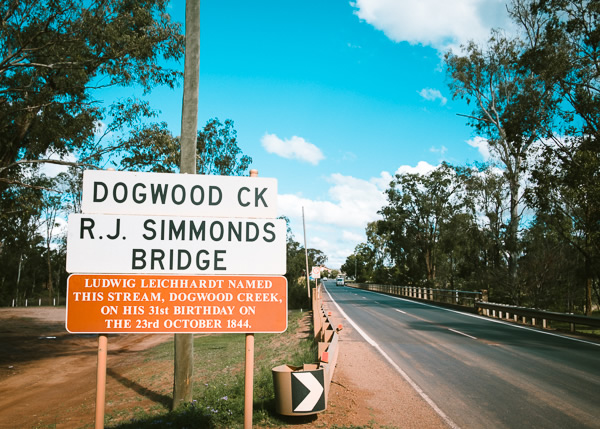 A quick history lesson. I love learning things like this about our past. Imagine the the difficulty and hardship involved in traversing the country at that time.
Our first night on the road was spent in Roma. We stayed at the Aussie Toursit Park in a fully self-contained cabin. It was perfect. With comfortable beds, plenty of hot water for showers and all the cooking utensils you could need, we couldn't have asked for better.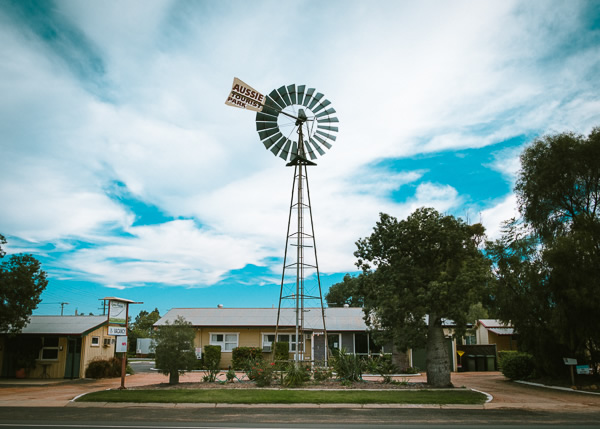 The Roma Aussie Tourist Park. Park your caravan or rent yourself a fully self-contained cabin. You'll be glad you did.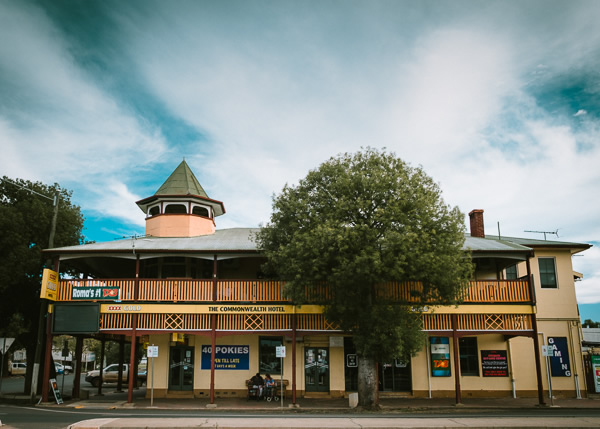 The Commonwealth Hotel, Roma. Try the lamb!
Now is a good time to give you a few of my best tips for a safe and enjoyable roadtrip. If you are thinking of setting off on a big drive here's some recommendations.
1. Prepare your vehicle in advance. Book it in for an oil change, tune-up and full safety check a week or so before setting off. A reliable vehicle is your lifeline on remote country roads.
2. Make an itinerary, but be flexible. You need to know distances between towns and were you're going to sleep. Be flexible though because you might like a place so much that you want to spend an extra day.
3. Know the fuel capacity of your car and the distance you can go on a full tank. Fuel stops can be a long way apart in the outback. I always have 25 litres in a jerry can strapped to the roof.
4. Packing the car is a skill that only gets better with practice. Always keep your camera, water, snacks, map, a torch and a roll of toilet paper (you only need to get caught out once) handy. Stash things under the car seats to keep them within reach. Pack clothes and foodstuff on top in the back so they are close to hand at the end of the day.
5. It may be advisable to book accomodation in advance for really popular destinations in peak season. Even a room at the local pub could prove hard to come by.
Stay tuned for part two were we venture on to the amazing Carnarvon Gorge. You're not going to want to miss this!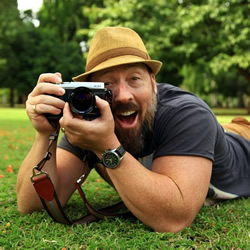 Posted By Nathan
Hi there! I'm Nathan Brayshaw, an adventure travel photographer and writer based on Queensland's Gold Coast in Australia. I've always had a deep love for nature and a yearning to explore the world, which has led me on thrilling expeditions to remote and exotic destinations.

As a photographer, I'm passionate about capturing the raw beauty of our planet, from breathtaking landscapes to awe-inspiring wildlife, and everything in between. My camera is my constant companion as I journey through dense jungles and summit towering peaks, always in search of the perfect shot that tells a story.

In addition to my photography, I'm also passionate about writing, as it allows me to share my experiences and insights with a wider audience. I believe that through my work, I can encourage others to step out of their comfort zones, explore the unknown, and embrace the thrill of adventure.

With my passion for exploration, my camera in hand, and my heart set on discovering the world's wonders, I'm constantly pushing the boundaries of adventure travel photography and writing. Join me on this incredible journey as we uncover the breathtaking beauty and diverse cultures that our planet has to offer.
Updated : 23rd July 2021 | Words : 732 | Views : 5449
Comments